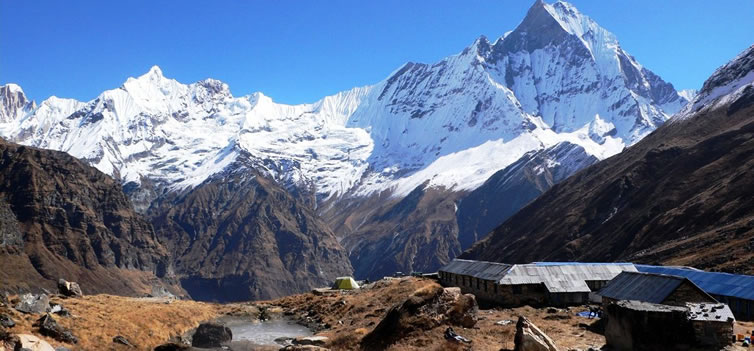 Langtang Region
Duration : 18 Days\17 Nights
The Annapurna base camp trekking known as Annapurna Sanctuary trekking is a true classic, amidst some of the highest and most spectacular mountains in the world.
Day 01: Arrival Kathmandu
Kathmandu arrival, our representative will be at the airport to receive you on your arrival.
Day 02: Kathmandu - Beshi Sahar
Drive Kathmandu to Beshi Sahar Overnight in Hotel / Camp.
Day 03: Beshi Sahar - Nadi
Beshi Sahar to Nadi (1011m) Walk for about 6 hours towards Nadi through narrow tracks, suspension bridges and a deep river gorge.Overnight at Nadi.
Day 04: Nadi - Jagat
Nadi to Jagat (1314m) Walk for about 7 hours towards Jagat through the valley crossing several suspension bridges and passing several beautiful waterfalls land view the tower of Mt. Lamjung (22,291Ft.), Manaslu (26,760 Ft.) and Peak 29 (24,652 Ft.). Overnight at Jagat.
Day 05: Jagat - Dharapani (1943 m.)
Walking distance of about 7 hours from Jagat to Dharapani, entering Manang district from Taal and crossing a large bridge to Dharapani to stay overnight.
Day 06: Dharapani - Chame
Dharapani to Chame (2713m) The distance is covered within 6 hours. The trail now leads to the west in Manaslu .forming a splendid backdrop of Annapurna II appearing occasionally to the south. As we continue, Annapurana range offers a splendid view. Overnight at Chame.
Day 07: Chame - Pissang
Chame to Pissang (3185m.) Keeping by the side of river all day for about 7 hours and passing through narrow and steep gorge reach Passing from where Manang Valley (a wide U - shaped valley) hanging between two giant snow peaks. Overnight at Pisang.
Day 08: Pissang - Manang
Pissang to Manang (3351m.) After a 7-hour walk through trails and broad forested valley floor a small stool airstrip and a village of about 200 houses and Barge monastery which is the largest in the entire district and reach Manang.
Day 09: Marsyandi Khola
We branch away from the Marsyandi Khola steadily climbing into quiet distinct alpine areas. Camp/lodge at Kharka. 3800m/3 hrs.
Day 10: Thorong Phedi(4335 m, app. 3 hrs walk)
Crossing the Jarsang Khola we climb to a small grassy valley and camp.
Day 11: Thorong Phedi - Muktinath Jomsom
Thorong Phedi to Muktinath Jomsom with beautiful snow mountains and no tree land ! It is gateway of Mustang trek. Those, having not good enough time to trek down all the way to Pokhra can fly to Pokhara-Kathmandu on the next day.
Day 12: Jomsom - Tukuche
Jomsom to Tukuche (2591 m.) 5/6 hrs. walk a valley dominated by Thakalis, Gurungs and Magars tribes, lunch at Marfa on the way.
Day 13: Tukluch - Ghasa
Tukluch to Ghasa (1970 m.) 5/6 hrs walk, a dramatic change in the surrounding with green vegetation and very beautiful view of Dhaulagiri and Annapurna region. Overnight at Ghasa.
Day 14: Ghasa - Tatopani
Ghasa to Tatopani (1189 m.) 5/6 hours walk, gradual descend to Tatopani through valleys, fields and the beautiful Rupse Chhahara (water falls) and then the time to have lunch at Dana village which is the deepest gorge in the world. Rest and overnight at Tatopani.
Day 15: Tatopani - Ghorepani
A challenging ascent upto Ghorepani. Overnight at Ghorepani from where one can observe the best sun set view over the profile of Mt. Dhaulagiri and Annapurna.
Day 16: Ghorepani/Tadapani - Ghandrung
Ghorepani/Tadapani to Ghandrung (1951 m.) 6/3 hours.
Day 17: Ghandrung - Birethati
Ghandrung to Birethati and drive back to Pokhara.
Day 18: Kathmandu - Delhi
Drive or fly back to Kathmandu. On arrival proceed to Delhi.