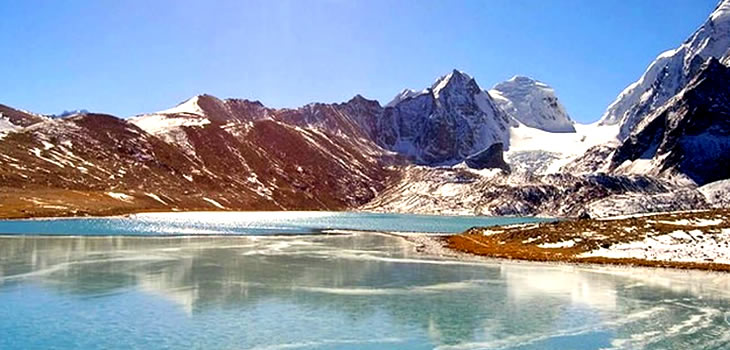 Hidden Himalayas Sikkim Trek
Duration: 14 Days\13 Nights
Experience the best of the Himalayas. This tour starts from the magical Kingdom of Bhutan, dramatically giving way to the lost Buddhist Kingdom of Sikkim.
Day 01: Arrive Delhi
Upon arrival at Delhi met our representative and transfer to hotel for overnight stay.
Day 02: Delhi - Bagdogra - Gangtok
Take morning flight from Delhi to Bagdogra. Meet our representative and drive towards Darjeeling. On arrival transfer into hotel. Evening sightseeing. Overnight stay at the hotel.
Day 03: Darjeeling - Yuksam
We drive in easy stages through the beautiful forested countryside of Sikkim, arriving at hotel at Yuksam, the site of the Kanchenjunga park headquarters and the roadhead.
Day 04: Yuksam - Tshoka (2900 mts)
Our trail leads through dense, and normally misty forest and Rhododendron. The trail winds up for three hours before crossing the Prek Chu, another three to the small Lepcha settlement of Tshoka, passing the alpine huts at Bakhim en route.
Day 05: Tshoka - Dzongri (3950 mts)
The trail at times is paved with tree trunks to assist us up, through Phodung, where the temperate forest gives way to more rhododendron and magnolia. After two hours climbing we emerge onto a narrow ridge with excellent views of Pandim, Nar Singh (6010m) and Jopunu (6000m). We follow the ridge to the wide pastures known as Dzongri.
Day 06: Climb Dzongri top and trek Thangshing (3800 mts)
Up at four for the climb to Dzongri top. After an hour we reach the prayer flags that mark the top, and watch Kanchenjunga in the first rays of the sun. Then, we climb briefly away from camp to contour around hillsides of heather and juniper against snowy peaks. In all, three hours walking from Dzongri to our camp in the wide pastures of Thangshing.
Day 07: Acclimatization trek
Today we contour slowly up and away from camp through forests of moss draped rhododendrons. An hour out we see Kanchenjunga. Looking west, we can pick out the Kabru range and Ratong peak.
Day 08: Thangshing - Lamoni (4100 mts)
Today is an easy walk, just four hours, after an hour with the Kanchenjunga massif revealed, across open hillsides with juniper and heather scenting the air. The views get ever more spectacular as we approach the old moraines and glacial rubble.
Day 09: Lamoni - Goecha la and Thangshing (3800 mts)
3.30 in the morning is the time, with those extra layers, gloves, and headtorch laid out ready the night before. After two hours we see the same shadowy peaks as from Dzongri top, but much closer. By noon we are at Samiti lake, and an hour later, a huge meal before heading down to Thangshing.
Day 10: Thangshing - Tshoka (2900 mts)
A different route, contouring around hillsides and walking on air after our high points. By Late afternoon we are back at Tshoka.
Day 11: Tshoka - Yuksam
Down! over 1000m of it, through forest, the temperature rising as we descend.
Day 12: Yuksam - Darjeeling
A beautiful drive through tea plantations and forest against a stunning Himalayan backdrop.
Day 13-14: Darjeeling - Bagdogra - Delhi
An early morning drive through the lush green scenery and hills to the airfield at Bagdogra, and our flight to Delhi. We take you to the airport for your flight home.