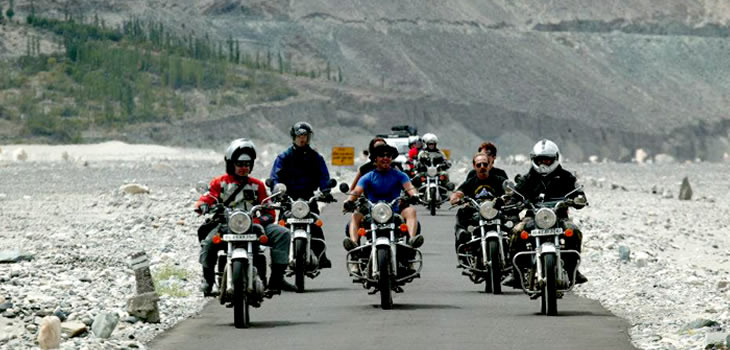 Bhutan & North East India Motorcycle Tour
Best Season: April - May / Sep - Oct
Day 01 - Arrive Kolkata
Ex international flight late evening hours & drive to station board the Darjeeling Mail at 1915 hrs Ex Sealdah for a overnight journey to NJP arriving there by 0810 Hrs.
Day 02 - Met on arrival at the Station and drive to Siliguri for B'fast and to relax. Later in the day Day ride to Phuntsoling - 150 Kms -
Through Tea estates. Situated directly at the base of the Himalayan foothills, Phuntsholing is a fascinating mixture of Indian and Bhutanese, a perfect example of mingling of people and their culture. We stay at this border town before entering Bhutan tomorrow. O/Nt at Hotel.
Day 03 - Ride to Thimphu - 175 Kms
The capital of Bhutan, and the centre of government, religion and commerce, Thimphu is a unique city, with an unusual mixture of modern development alongside ancient tradition. Overnight at hotel.
Day 04 - Half Day sight seeing of Thimphu and then ride to Punakha - 75 Kms.
The ride today is in an alpine valley along serpentine roads. The area is sparsely populated thus there is not much traffic on the roads, but one has to be cautious on the bends. O/Nt Punakha.
Day 05 - Punakha - Tongsa - Punakha - 270 Kms
A Day ride to Tongsa (7,600 feet) with many dzongs and spectacular scenery.
Day 06 - Punakha - Thimphu - Paro - 140 Kms
This beautiful valley which encapsulates within itself rich culture, scenic beauty and hundreds of myths and legends, is home to many of Bhutan's oldest temples and monasteries, the country's only airport and the National Museum. There are splendid view of the distant Himalayas at Dochula pass ( alt. 3,100 m ) on Thimphu - Punakha road.
Day 07 - Paro - Phuntosling - Jaldaprara - 198 Kms
After Phuntosling we are on to the national highway & ride north west to reach JAldapara Wild life sanctuary. Time permitting visit the Jaldapara National Park for game viewing. Over night Forest lodge.
Day 08 - Jaldapara - Kalimpong - Gangtok (240 Kms. - 07 Hr drive)
Morning visit the Jaldapara National Park for game viewing. Then ride on to Kalimpong, iInitially in the foothills and then uphill and downhill on serpentine roads.
Day 09 -
Gangtok is tucked away in the clouds, on a ridge 5000 ft above sea level. Day return excursion to Changhu Lake. The lake is open for visitors in season and is worth the ride to get a view of Gangtok town. Overnight at hotel.
Day 10 -
Ride to Rumtek in the afternnon. Visit the Rumtek Dharma Chakra . Ride on to Pemayangtse visiting Tanshiding monastery enroute. Overnight at hotel.
Day 11 - Pemayangtse - Darjeeling - Kurseong -150 Kms - 06 Hr. Drive
We will ride to Kurseong via the tea region of Darjeeling (we have all heard o Darjeeling Tea!) Nestling in the grandeur and beauty of towering Satellite of snow-capped Kanchenjunga mountains is Kurseong, a little town with a past of elegance; sophisticated and beautiful.
Day 12 -
We will ride into Darjeeling in the morning for a day of sightseeing. Explore the Town of Darjeeling with visit to the Kaunchunga view point and Tiger Hill. Then ride down Hill 120 Kms to Siliguri arrving by latter part of the evening board the train at 2000 Hrs and arrive Kolkatta at 0845 Hrs next day. Over night train.
Day 13 -
Arrive Kolkatta in the morning and check into hotel - day at leisure for sightseeing.
Day 14 - Drive from Kolkata to Basanti - 100 kms / 3 hrs. Basanti to Sajnekhali -
by boat Overnight at Sajnekhali tourist lodge.
Day 15 -
Fall back late evening or day 16 early morning hours board the flight to Home.