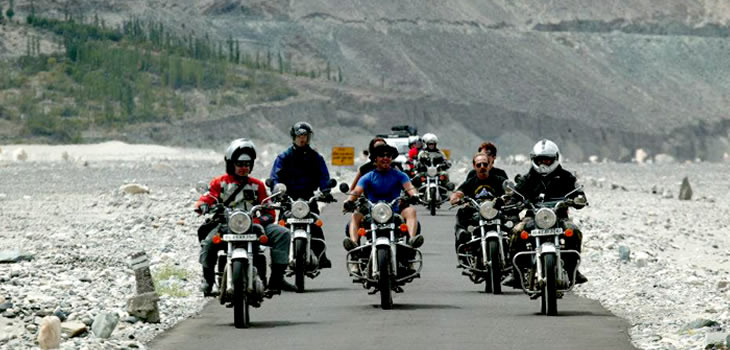 Top of the World Motorcycle Tour
Best Season: Mid July - Mid Sep
Himalayas Simply conjure up an "image" - satellite of magnificent snow covered peaks - remoteness / alpine green valleys / high altitude passes. Our Royal Enfield Motorcycle Tours is to the saddle of Buddhist culture in Ladakh, living in harmony with harsh climatic conditions in the Higher Himalayas.
This Motorcycle Tours is one of the best activities to participate in a holiday catering pure unadulterated pleasure & taking the challenge of the intricacies of riding your 500cc motorcycle in the High Himalayas.
Where do we Ride on the Top of the World Motorcycle Tours?
This Motorcycle Tours is initiated in the alpine valleys of Manali, to ascend high mountain passes in the Zanskar & Ladakh ranges. The safari involves cross country ride of Changthang area, burning out energies at Pangyongtso lake, the highest in the region & not to forget the Bactrian camel on the ancient silk route of Nubra Valley at the foothills of the world's highest battlefield. We will be crossing High altitude Passes - Rohtang Jot - 3978 M ; Baralacha La (pass) - 4830 M ; Lachulung La - 5060 M & (Suraj Tal Lake) ; Tanglang La - 5360 M ; Chang La - 5262 M ; Khardung La - 5602 M
DAY 1 - Delhi - Manali
On arrival ex International flight you are met at the Airport and transferred to the domestic Airport for flight to Kullu. From Kullu drive to Manali by a pre-arranged Coach. Immediately on arrival check into the Hotel for rest and overnight stay.
DAY 2 - In & Around Manali - 80 Kms
Wake up leisurely and enjoy the holiday mood with a sightseeing ride around Manali. Make the most of this day because there is some very tough Biking ahead!
DAY 3 - Manali - Jispa - appx 158 Km
We will make an early start towards Jispa, our next night halt. the abundance of greenery and trees dramatically disappears into arid landscapes as we ascend the steep mountains over Rohtang Pass. We can expect a few muddy tracks at times. Overnight camp at Jispa.
DAY 4 - Jispa TO Sarchu - 84 Kms
After Jispa begins the real ascent over some muddy patches and water crossings where the melting snow from the higher ranges flows down on the road. We will ascend Baralacha La (pass) 4830M and then cross into the Zanskar ranges to camp at Sarchu.
DAY 5 - Sarchu - Rumtse - 173 Kms
We'll make another early start today to cross Brandy Nallah, Gata Loops and the Double humped Pass Lachulung La (5060M). Its awe inspiring scenery (if bleak at times) all the way today as we cross Pang (4630m) and the More Plains - a flat stretch of 48 Kms, at an average height of 4200m to reach the world's second highest motorable pass Tanglang La (5,360 M). It's down the other side to our picturesque Camp site at Rumtse (appx 30 Kms/4325m) for the night.
DAY 6 - Rumtse - Leh Town - 78 Kms/ 3506 M
Joolay! You wake up in the lap of the Ladakh Valley. Greet the locals with a Joolay and feel the warm and hospitable nature of the Ladakhis envelop you. We drive along at a leisurely pace, stopping to check out two magnificent Monasteries on our way to Leh.
DAY 7 - At Leisure in Leh Town
Today is a well deserved rest day for the man and the machine. It is essential at this altitude to acclimatise.
DAY 8 - Leh - Pangyong Tso - 160 Kms
Today we head towards Pangyong tso. Ascend the height of the world's third highest motorable pass Chang la over landslide prone area and wayward mountain streams deciding to change course at will. We will set our campsite in the general area around Pangyong Tso.
One of the toughest water crossings on this route is near the Lake - real challenge for man and machine! But once you get to the lake you will forget the tough ride, the maniacal streams and the cold...To find such a huge expanse of calm blue water at that altitude ! Its definitely worth the ride. The Pangyong Tso (lake of great hollowness) is almost 130 Km long and 06 to 07 Km wide, extending east to west at a height of 14000 Ft.
DAY 9 Pangyong Tso - Leh - 160 Kms
Today we will head back the same way to Leh. We'll make an early start and try to reach Leh by afternoon. We need a well deserved rest and an early night. Overnight Hotel.
DAY 10 - Leh - Khardung La (5602 M) - Nubra Valley - 140 Kms
Today is the day we all came on this ride - to be on Top of the World - the Khardung La (5602M)!!!
The intial smooth going track becomes tougher as we ascend, full of boulders and stones - but it is certainly worth the ride. After a short break we will move on to reach the Nubra Valley. Its a fantastic ride over fairly good, paved roads most of the time.
DAY 11 - Nubra Valley - Leh - 170 Kms
After an early breakfast we will head out to explore the beautiful Nubra Valley. and after some great riding experience in this remote area we will head back for Leh over Khardung La.
DAY 12 - At Leisure in Leh Town
DAY 13 - Leh - Alchi - 100 Kms/ 3150 M
After a rest day in Leh town, we proceed for some leisurely riding to see some interesting monasteries west of Leh - the Spituk monastery of the Gelukpas (Yellow Hat Sect) and Alchi Monastery. Crossing the bridge over the river we return the same way, viewing some amazing scenery enrooted. We are back in Leh for another night's rest - our last in the Ladakhi capital.
DAY 14 - Leh - Delhi
We fly to New Delhi Domestic Airport and proceed to the International Airport for our onward flight home at the end of a wonderful fortnight.