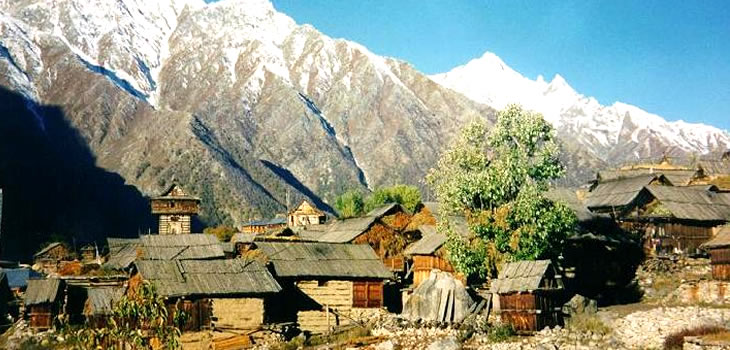 Sangla Valley Trek
Duration: 08 Days\07 Nights
Here is one amazing trek that takes you through some of the best and untouched places in Garhwal to the magnificent Sangla valley. What with crossing a pass that might make your 3 km jog in the park like a stroll. The Rupin Pass at an altitude of 4625 M offers views of the Kinner Kailash that are as up close and personal as one can get. The trek to the pass meanders along the Rupin River through picture pretty villages and into the evergreen Deodar forests. The descent from the pass is equally spectacular with the Verdant Sangla Valley and Baspa River there to greet you. This trek is the perfect amalgamation of Garhwal & Kinnaur.
Day 01: Dehradun - Mori (1130 m / 3700 ft)
Drive from Dehradun to Mori(170 km, 5-6 hrs). Mori is a quaint village by the river Tons and has beautiful pine forest all around. Overnight in GIO's Camp Har-ki-Dun.
Day 02: Mori - Dhula - Sewa (2000 m / 6600 ft)
We drive 40 km from our camp to reach Dhula (road head). Our trek starts from here, we will trek about 8 km in about 4 hrs time. Overnight in tents.
Day 03: Sewa - Jiskon (2320 m / 7656 ft)
On this day our trekking time would be about 7-8 hrs, covering 20 km. We will be crossing over from Uttaranchal to Himachal during the latter half our trek today. Overnight in tents.
Day 04: Jiskon - Jakha (2650 m / 8745 ft)
Today we will trek 8 km to reach Jakha, this will take about 3-4 hrs. Overnight in tents
Day 05: Jakha - Saruwas Thach (3450 m / 11685 ft)
Today's trek is of 8 km and we will take about 5 - 6 hrs to reach Saruwas thach camping ground, moving at a leisurely pace so as to enjoy the beauty of the place. Overnight in tents.
Day 06: Saruwas Thach - Nuru (3600 m / 11880 ft) via Rupin Pass (4625 m)
Early morning we set out towards Rupin pass. From the pass enjoy fantastic views of the Kinnaur Kailash range. From here we will descend to the grazing grounds at Nuru. To reach here we would have trekked for about 6 hrs covering 12 km. Overnight in tents.
Day 07: Nuru - Sangla (2650 m / 8745 ft)
We will trek 12 km (3-4 hrs) to reach Sangla. From the road head we will drive up to the GIO camp, this drive will take about half an hour. Overnight at GIO's 'Kinner Camp'.
Day 08: Sangla - Shimla
After breakfast drive to Shimla (237 km, 10 hrs).