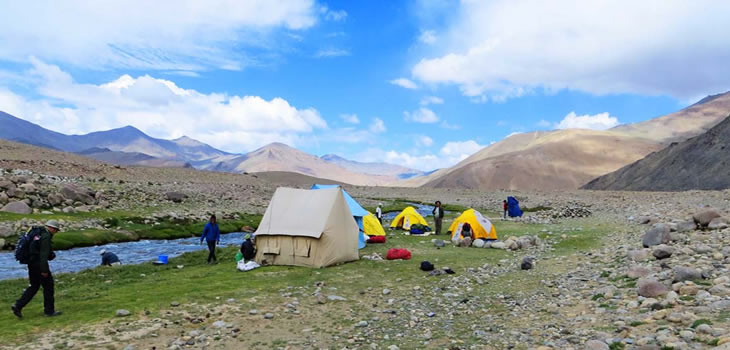 The Rupshu Trek
Duration:17 Days\16 Nights
To the south east of Leh lies a region that is still less frequented by tourists. The area borders the Grat Changtang Plateau of Tibet. Amidst a barren landscape live small groups of nomadic Chang tribesmen leading a harsh existence. Tucked away in a remote area of this region, is one of nature's wonders - the lake of Tso Moriri.
Day 01: Arrive at Delhi
Reach Delhi in the evening and relax at hotel. Overnight will be at Delhi.
Day 02: Delhi - Leh
Morning transfer to airport to connect flight to Leh. On arrival in Leh, airport transfer to hotel. In the evening you can take a small walk in the market. Overnight will be at hotel.
Day 03: Spitok - Phyang Gompas
Tour of Spitok and Phyang gompas.
Day 04: Shey - Matho Gompas - Stok Palace
Tour of Shey and Matho gompas and Stok palace, the home of Ladakhi royalty.
Day 05: Tikse - Hemis
Tour of Tikse and Hemis gompas, two the wealthiest and most influential institutions in Ladakh. Camp at Hemis.
Day 06: Hemis - Chogdo - Kongmaru La
Trek from Hemis to the village of Chogdo. Then trek to Kongmaru La base camp.
Day 07: Kongmaru La - Nimaling
Over Kongmaru La (16,730 ft.) to the plain of Nimaling, then over a small ridge to the secluded base camp at the foot of majestic Kang Yatze peak (21,000 ft.).
Day 08: Kang Yatze
Day at Leisure or perhaps climb an adjacent ridge for a closer view of Kang Yatze's summit.
Day 09: Konka Wangpo - Langtang Chu
Over Konka Wangpo (16,500 ft.) to the valley of Langtang Chu.
Day 10: Zalung Karpo La - Sokra
Climb to the top of Zalung Karpo La (16,570 ft.) for a birds'-eye view of the Kharnak region before descending to the lovely meadow of Sokra.
Day 11: Kharnak - Gelugpa Gompa - Lungmoche
Pass through Kharnak, with its imposing fort looming over us, and enter a spectacular gorge leading further down into willow groves. When the valley widens again, you will reach one of the most auspicious spots in the region. After one hour's walk, we reach the semi-permanent settlement of Dat and camp near the village. The village and its small Gelugpa gompa merit an afternoon's exploration. On the vast open plain beyond Dat, we keep a close lookout for herds of Kyiang, the Tibetan wild ass which frequent this valley. From the pass, there is a simple descent to Lungmoche.
Day 12: Zhabuk - Bharal
The scenery changes yet again as you pass two small ridges and descend through grotesquely wind-carved rocks to one of the most beautiful campsites in Ladakh, called Zhabuk. You slake your thirst in the crystal clear spring and watch for the flocks of graceful Bharal, or Blue Sheep, on the cliffs above.
Day 13: Zara Chu
Be prepared for some exciting river crossings before we climb high above the Zara Chu (river) and leave it behind for good.
Day 14: Marang La - Darcha
You make an early start to tackle the highest pass on our journey, 17,390 ft. Marang La. The descent is quite long, and we end up in a lovely willow grove on the bank of the mighty Tsarap Chu, leaving the icy heights far behind. Then trek to Darcha. It's a short walk to the Manali-Leh military road, where we meet the jeep that will take us on to Manali. This spectacular drive takes us over the main Himalaya range at the 15,255 ft Baralacha La before stopping for the night in Darcha.
Day 15: Rohtang Pass - Manali
You continue by jeep over Rohtang Pass (3978 metres) to Manali.
Day 16: Pinjore - Chandigarh
Drive to Pinjore. Then a short jeep ride to Chandigarh.
Day 17: Chandigarh - Delhi - Onward Destination
Train to Delhi. In the evening transfer to airport for flight to onwards journey.