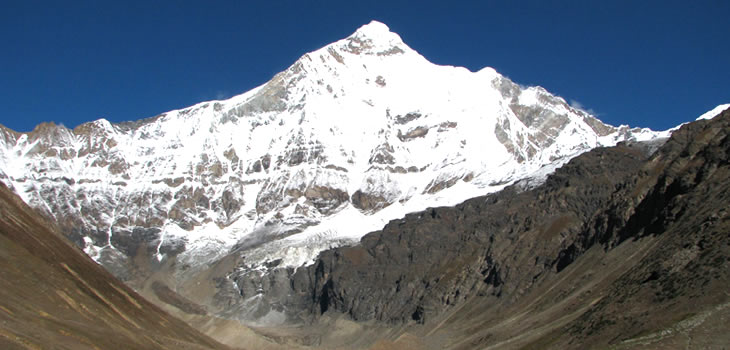 Nanda Devi Trek
Duration: 10 Days\09 Nights
Everest may will be the highest peak in the world but the beautiful peak of Nanda Devi must surely be the most fascinating. The area first came to the attention of the Western world as a result of the 19th century explorations by Traill, Graham and Longstaff but shot to fame in the 1930's when Shipton and Tilman forced a route into the Inner Sanctuary. Nanda Devi is the highest mountain situated completely within India and is surrounded by a ridge wall of nearly 6000 m. The only break in this wall is the Rishi Ganga, a wild and seemingly impenetrable gor. This classic trek takes us across the picturesque meadows and valleys that border the western edge of the Nanda Devi Sanctuary.
Day 01: Delhi - Rishikesh
After arrival at Delhi, drive to Rishikesh for 6-7 hours. Upon arrival at Rishikesh check into hotel. Evening free to explore the area. Overnight stay.
Day 02: Rishikesh - Joshimath (250 kms/8-9 hrs)
In the morning after breakfast drive to Joshimath via Devprayag, Rudraprayag. Lunch enroute. Upon Arrival at Joshimath check into hotel. Evening explore Joshimath. Overnight stay in hotel.
Day 03: Joshimath - Lata Village (2317 mts/7599 ft) (2 kms/1 hrs)
An hour's drive takes you to the Lata Village road head. Then trek to the village. Visit The Nanda Devi Temple and get a first hand experience of the distinctive culture of the region. Overnight in the village.
Day 04: Lata Village - Lata Kharak (3689 mts/12099 ft) (9 kms/4-5 hrs)
Today's trek is a steep incline. The going is arduous but very satisfying as the trail unfolds before ones eyes. Lata Kharak is a high plateau with high peaks surrounding it. Trekking time could vary from 5 - 7 hrs! Overnight in Camp.
Day 05: Lata Kharak - Dharansi Pass (4250 mts/13940 ft) (10 kms/4-5 hrs)
A good nights sleep and what a morning! Towering snow clad peaks all around. Dronagiri, Nanda Gunthi and many more. The trail today takes a steep climb to Jhandi Dhar and Bagfyana Pass. From here on it ascends and descends through the narrow gorge of Satkul to Dharansi Pass. Over night in Camp.
Day 06: Dharansi Pass - Debrugheta (3500 mts/11480 ft) - Dharansi Pass (6 kms/3-4 hrs)
On today's trail the Malthuni - Bethratoli Ridges of the inner and outer sanctuary form a magnificent pass up to Rani Kholi and Donidar.The trail is a steep descent of about a kilometer to Debrugheta. Return to Dharansi Pass by late afternoon. Overnight at Camp.
Day 07: Dharansi Pass - Hitoli Camp Site (2900 mts/9512 ft) (12 kms/5-6 hrs)
Today we go through Jhandi Dhar a steep descent of 4.5 km to the Hitoli camp site through thick forests of Rhododendron, Birch and Fir. Overnight at Camp.
Day 08: Hitoli Campsite - Joshimath (1890 mts/6199 ft) (8 kms/3-4 hrs)
The trek goes through the village of Tolma to the road head from where it is a 30 km drive to Joshimath. We will trek through thick forests of Rhododendron, birch and many others. Upon arrival at Joshimath check into hotel for dinner and overnight stay..
Day 09: Joshimath - Rishikesh
After an early breakfast drive to Rishikesh via Nandprayag, Karnprayag, Rudraprayag and Devprayag. Upon arrival at Rishikesh, check in hotel an dinner & Overnight stay hotel.
Day 10: Rishikesh - Delhi
Morning after breakfast drive to Delhi. Enroute stop at Hardwar, visit Har Ki Pauri ghat. Continue drive to Delhi and on arrive check into hotel. Overnight stay at Delhi.