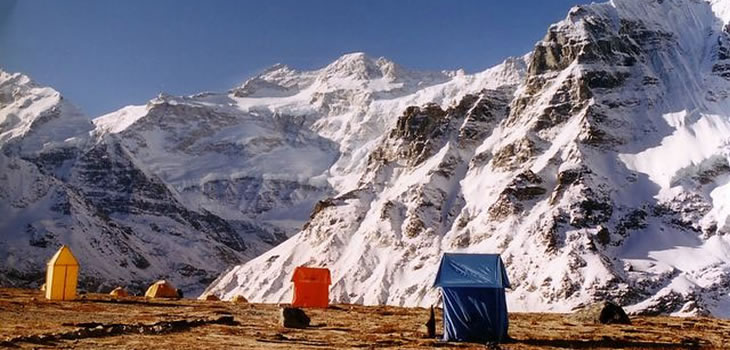 Kanchenjunga Base Camp Trek
Duration: 12 Days\11 Nights
This is an strenuous trek which goes right up to Goecha La Pass at an elevation of 5000 m. giving exceptional view eastern face of Kanchenjunga(8535 m.), the third highest mountain in the world. The journey starts from Yuksom a small settlement within subtropical forests and goes through vast expanse of yak pasture. It finally reaches the alpine region where dwarf shrubs thrive in abundance and the temperature is quite extreme.
Day 01: Arrive Kathmandu
Arrive Kathmandu and transfer to Hotel.
Day 02: Fly KTM/BIR or BDR
Upon arrival met and transfer over to Darjeeling, and check into Hotel. Overnight at Hotel.
Day 03: Yuksom
Morning drive to Yuksom (1770 m / 170 km / 7 hrs), on reaching overnight at trekkers hut.
Day 04: Tshoka
Start trek after breakfast. The trail goes through dense semi tropical forests crossing streams occasionally. After a steep climb we reach Tshoka (2745 m/5 hrs) for the camp.
Day 05: Dzongri
The trail follows a steep climb through fascinating rhododendron forests. The magnificent view of Mt. Kanchenjunga and Mt. Pandim can be seen through out the journey. Camp at Dzongri (4200 m/3 hrs).
Day 06: Thangshing
Comparatively easy trails with very clear view of Kanchenjunga and its range of mountains. After lunch a little climb after crossing a steam. Camp at Thangsing (3930 m/3 hrs).
Day 07: Samit Pokhari
The trail fairly evens out towards a small village settlement and then onwards it follows a moraine for about an hour before reaching our next camping site at Samit Pokhari (4500 m/3 hrs).
Day 08: Goechala Pass - Samit Pokhari
Early morning as the trek resumes, the trail climbs an uneven moraine with huge boulders of rocks. We get to see some exceptional views of the eastern face of Kanchenjunga for Goechala Pass(5002 m). Descend back to camp at Samit Pokhari.
Day 09: Thangshing
Retrace trail back to Thangsing. Camp for the night.
Day 10: Phedang - Bakhim
Descend to Phedang through steep trail to Bakhim (2684m/3 hrs).
Day 11: Yuksom
The last day on the trail, we retrace it back to Yuksom (4 hrs.)at an leisurely pace. If time permits, we get to visit Dubi Monastery and a lake with tranquil surroundings near by. Camp for the night.
Day 12: Bhadrapur - Biratnagar - Departure
Transfer to Bhadrapur or Biratnagar for final departure. End of the tour.