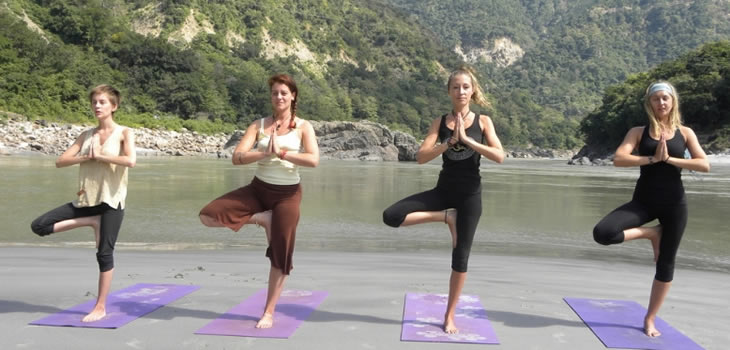 At the foothills of the Himalayas along the banks of the sacred river Ganges, lies the town of Rishikesh. The first town this holy river reaches on its decent from the mountains, Rishikesh is home to many ashrams, and most major Indian ashram, including Vivekenanda, Sivananda, Osho, Bihar school of yoga, have an office there. It is a good place to experience classical Indian yoga. Class instruction may leave a few gaps for students used to the precision of western classes, but with its slow and spiritual atmosphere, it's an enjoyable place to begin discovering what India has to offer. Rishikesh is less intense than other parts of India, probably because people have religion on their minds. Most people are very friendly and quick to say hello or namaste.
As a pilgrimage point, Rishikesh greets many devout Hindus and wandering sadhus (holy men). Many come to bathe in the sanctified waters of the Ganges, as Hindus believe this can remove layers of karma. This peaceful ashram centre is certainly one of the more atmospheric places in India. As the sun rises from behind the mountains, and cuts through the fog, locals wash in the river. Live temple chanting sets the tone. Beginning around 4 am, the chants float across the water until well after dark. During night time pujas (ceremonies), offerings of hundreds of camphor flame leaf boats float picturesquely on the river.
The commercial centre is more typical of India. But there is little need to visit it as the ashram centre, located on either side of a footbridge over the river, has great bookshops, good restaurants and email places. As a holy city, Rishikesh is fully vegetarian, so you won't even find an egg there. Rishikesh hosts an International Yoga Festival, which is held every year in the first week of February.