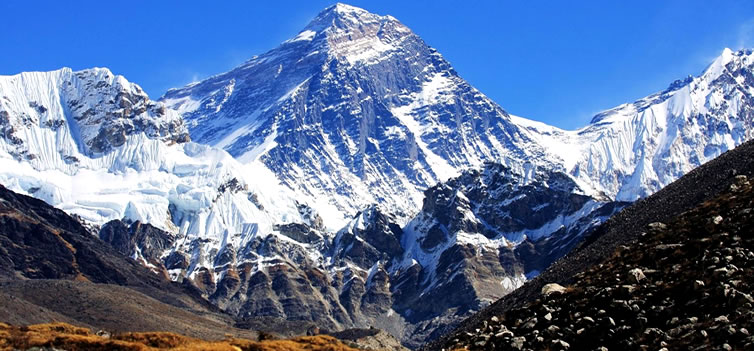 Everest Region
Duration : 15 Days\14 Nights
The Khumbu or Everest region is the most popular trekking area in Nepal. It would probably be the most popular destination.
Day 01: Delhi - Kathmandu
Arrive Delhi, then time to drive to Kathmandu.
Day 02: Kathmandu - Lukla (40 min flight) - Phakding; 3-4 hour trek
After an early morning flight to Lukla. From Lukla you'll pass Chaurikharka village and make a descent towards the Dudhkosi Ghat (2,530m/8,300ft). The trail follows the bank of the Dudhkosi River until camp at Phakding (2,652m/8,700ft) is reached.
Day 03: Phakding - Namche Bazaar: 5-6 hour trekking
The trail crosses Dudhkoshi River over a long suspension bridge and then leads you along the river to Hilary's Suspension Bridge. Then the trail climbs further to Namche Bazaar.
Day 04: Namche Bazaar - Khumjung: 4 hour trekking
Today's route starts by climbing up to the Shyangboche airstrip. Just above the airstrip is the Everest View Hotel, a Japanese scheme to build a deluxe hotel with great views of the highest mountains on Earth. Overnight in Khumjung.
Day 05: Khumjung - Tengboche: 4-5 hour
From here the trail will descend slightly to Dudhkoshi at 3250m. Then a steep ascent will bring you to the famous Tengboche Gompa, with its stunning background of Ama Dablam, Mt. Everest and other peaks.
Day 06: Tengboche - Dingboche: 5-6 hour
There's a slight descent early today through lush forest, before the gradual climb up to the valleys highest year round settlement of Pangboche. Continue ascending through alpine meadows and yak herds, eventually reaching Dingboche.
Day 07: Dingboche - Duglha: 3-4 hour
Today is a climb to Duglha where we will stay overnight to complete acclimatization. From here there are stunning views of Tawachee and Cholatse.
Day 08: Duglha - Lubuche: 2-4 hour
The trail goes from Duglha directly up to the Khumbu Glacier for an hour, then left into the memorial area before reaching the village of Lubuche. By this stage the effects of the altitude will be kicking in and you can expect colder nights.
Day 09: Lubuche - Gorak Shep: 2-4 hour
The trail continues climb to Gorak Shep. It takes a couple of hours to walk up to the famous viewing point of Kala Pattar (Black Rock). This small peak offers the best views of Mt. Everest, Pumori and Ama Dablam you can get without climbing. Overnight in Gorak Shep.
Day 10: Gorak Shep - Everest Base Camp - Lubuche: 6-7 hour
This day leads you finally to the Everest Base Camp (5,357m/17,575ft) walking through rocky and glacial trails where climbers gather for summiting Everest. Continuing the trek we'll return to Lobuje (4930m/12894ft) for overnight.
Day 11: Lubuche - Pangboche: 5-6 hour
The trek retraces halfway back and lunch at Pheriche. Finally the trek ends at Pangboche (3,860m/12,664ft), which lies on the bank of Imja Khola.
Day 12: Pangboche - Namche Bazaar: 5-6 hour
Now the trail retraces the same way back, stopping at Tengboche. During the November-December full moon the colorful Mani Rimdu festival is held here with much singing and dancing. Overnight in Namche Bazaar (3,400m/11,286ft).
Day 13: Namche Bazaar - Phakding: 5-6 hour
Today the trail steeply descends to the Hillary Suspension Bridge and then continues on an easy natural trail. Overnight in Phakding (2,652m/8,700ft).
Day 14: Phakding - Lukla: 3-4 hour
And finally today the trail will lead you back to Lukla
Day 15: Lukla - Kathmandu - Delhi
After an early morning flight to Kathmandu,then proceed to Delhi.