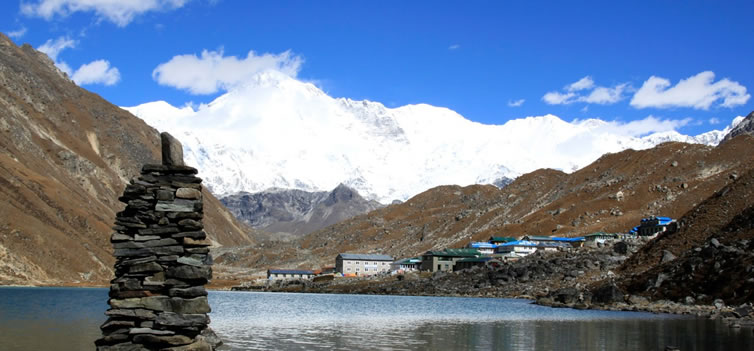 Dhaulagiri Trek
Duration : 21 Days\20 Nights
Dhaulagiri (White Mountain), separated from the Annapurna region by Kali Gandaki Gorge (deepest in the world) includes some fifteen peaks above 7000mt. The trekking in this area is relatively strenuous and needs some mountaineering knowledge.
Day 01: Upon your arrival in KATMANDU(1000m/3280ft)
Himalayan Glacier will officially greet and meet you at Airport & transfer to you Hotel.
Day 02: Kathmandu - Beni
It takes around 8/9 Hours on smooth Drive. O/N At Beni.
Day 03: Beni - Babichaur (1000m)
After leaving the Kali Gandaki River you enter in the Myagdi Khola valley.
Day 04: Babichaur - Dharapani (1565m)
Tonight you will camp in Dharapani 1565m, and the Dhaulagiri is no more so far.
Day 05: Dharapani - Muri (1850m)
The path goes steep up to Muri, where the Mt. Dhaulagiri & other mountains appear clearly.
Day 06: Muri - Boghara (2050m)
From Muri the trail is easy and goes down for few hours but before to reach Boghara you have to climb a steep path for a couple of hours.
Day 07: Boghara - Dhoban (2630m)
Today the path is quite difficult and sometime you will need the help of the rope
Day 08: Dhoban - Italien Base camp (3500m)
Today you will reach the Italian Base Camp where you will camp just in front of the West wall of the Dhaulagiri. Passing through beautiful forest we rapidly gain altitude and mountains burst out all around.
Day 09: Italian Base camp - Glacier camp (4250m)
After crossing the first glacier, probably using a rope in a couple of tricky spots, we climb onto the main glacier.
Day 10: Dhaulagiri Base camp (4650m)
Today you will reach the Dhaulagiri Base Camp. Soon the rough rubble gives way to the smooth ice of the white part of the glacier. We climb steadily to the rough and chilling but spectacular Dhaulagiri Base Camp.
Day 11: Hidden Valley Camp (5000m)
A rest day to admire the surrounding peaks and perhaps do some exploring.
Day 12: Hidden Valley - Yak Kharka
After climbing over the 5200m Dhampus Pass, we traverse avalanche prone slopes and then descends steeply to Yak Kharka.
Day 13: Yak Kharka - Marpha
More steep descent leads to Marpha and a well-deserved beer over lunch.
Day 14: Marpha - Lete (2438m)
We start trek from a lovely village of whitewashed houses and fertile fields, and continue down the Kaligandaki reaching the former Thakali trading centre of Tukche.
Day 15: Lete - Tatopani (1190m)
A beautiful walk, with another transition into sub-tropical vegetation and the return of water buffalo, banyan trees and poinsettias. The trail follows the river through a narrow gorge and descends to cross a bridge.
Day 16: Tatopani - Ghorepani (2819m)
Steadily climbing all day, we eventually leave behind the terraced fields and walk through thick rhododendron forest to the village of Ghorepani, meaning (horse water). We camp at the pass for the best views of the sunset.
Day 17: Ghorepani - Tadapani
Being of the early morning 5:30 AM wake up and start to you journey climb to Poon Hill (3195m) around 1 hr. to provides better unobstructed views and sunrise over the high Himalayas. You can see a lots of white mountain peaks.
Day 18: Tadapani - Landrung
After breakfast start your journey, to Landrung, it takes approx.: 6 hours. From Tadapani, the trails descends through the forests then terraced fields, to the Khummu Khola.
Day 19: Landrung - Dhampus
It's an easy walk past fields, a school and some unusual oval shaped houses and descends to Tolka a small settlement at 1710 metres, with several lodges along the trails.
Day 20: Dhampus - Pokhara
From Dhampus, all the way downhill through the village to Phedi. Starting at an elevation of 1580 metres, in a village and then forests that is look like a manicured municipal park.
Day 21: Pokhara - Kathmandu
It takes around 5/6 Hours O/N Kathmandu.