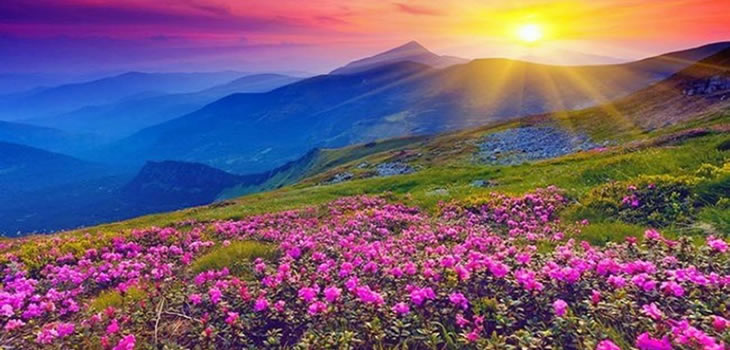 Valley of Flowers Trek
Duration: 08 Days\07 Nights
The world famous Valley of Flowers is situated in the upper expansions of Bhyundar Ganga in the far interior of Garhwal Himalayas. Spread over an area of 87.5 Sq. Km. The valley is at an altitude of is 3,250 M to 6,750 M above mean sea level. Many a legend are associated with this vibrant and eye catching Valley, and are often in the epics of the Ramayana and Mahabharat. The valley of Flowers National Park starts from Ghangharia but the main valley starts after crossing the gorge and the stream starting from Nar Parvat, At the entrance of the Valley stands the snow-clad peak of Ratban Parvat, towards the left is Nar Parvat, which separates the Badrinath valley from this valley, and to the right is dense Birch forest on the hillsides.
Below the forest are meadows and the River Pushpavati flows through the valley and there are many waterfalls enhancing the beauty of the valley. The bloom starts immediately after the melting of snow but the peak blooming period is from mid July to mid August. Almost 300 species of wild flowers bloom here unhindered by mankind. The prominent species are Braham kamal, Anemone, Geranium, Marsh marigold, Prinula, Lilium, Potentilla, Ranunculus, Inula, Corydalis, Pedicularis, Arisaema, Ligularia, Morina, Impatiens, Saxifrages Bistorta, Anaphalis, Sibbaldia. The myriad shades of the valley have attracted lots of travellers through the years.
Day 01: Delhi - Rishikesh (240 kms, 5 - 6 hrs drive)
Leave Delhi early morning for Rishikesh, checking in at the hotel on arrival. Evening visit Lakshmanjhula, Ramjhula and attend vibrant prayer rituals on the banks of Ganges at Swarg Ashram.
Day 02: Rishikesh - Joshimath (255 kms, 7 - 8 hrs drive)
After early breakfast leave for Joshimath. Enroute stop in Devprayag to witness the confluence of river Alaknanda and Bhagirathi to form holy river Ganges. Reach Joshimath by evening. On arrival check in camp / hotel. Overnight at camp / hotel.
Day 03: Joshimath - Govindghat - Ghangaria (20 kms drive, 13 km trek)
After early breakfast leave for Govindghat by road with packed lunch. Prepare for trek on arrival and then leave on the trek to Ghangaria, which will be our base camp for further trek to Valley Of Flowers. Reach Ghangaria late in the afternoon. On arrival check in hotel.
Day 04: Ghangaria - Valley of Flowers - Ghangaria (6 kms trek)
After breakfast leave for valley of flowers (3 kms one side trek) with packed lunch. Enjoy the beauty of rare high Himalayan flora at its best. The valley situated on a height of 3342 mts to 3658 mts is a national park under protection for its rate fona. Return back to Ghangaria for your overnight stay.
Day 05: Ghangaria - Hemkund Sahib - Ghangaria (10 kms trek)
After breakfast leave with packed lunch for Hemkund Sahib (a Sikh religious place) on the banks of Hemkund Lake at a height of 4320 mts. This trek is gradual ascent on the cobbled path from the altitude of 3049 mts to 4320 mts in just 5 kms. Return to Ghangaria by evening for overnight stay.
Day 06: Ghangaria - Govindghat - Badrinath (13 kms trek, 25 kms drive)
After breakfast trek down to Govindghat. Proceed for Badrinath by car. On arrival check in hotel. After lunch visit the main temple of Lord Vishnu. Also visit Mana Village, last village on Indian side to Tibet border. Overnight at hotel.
Day 07: Badrinath - Rishikesh
Early morning leave for Rishikesh on the full Day drive. Lunch Enroute at Srinagar. Reach Rishikesh by evening. Check in hotel an dinner & Overnight stay hotel.
Day 08: Rishikesh - Delhi
Morning after breakfast drive to Delhi. Enroute stop at Hardwar, visit Har Ki Pauri ghat. Continue drive to Delhi and on arrive check into hotel. Overnight stay at Delhi.