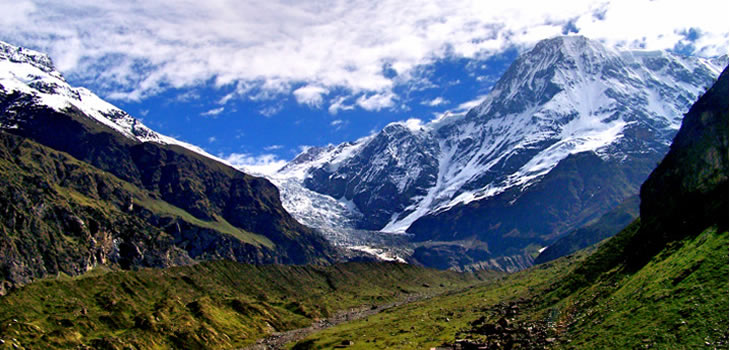 Pindari Glacier Trek
Duration: 13 Days\12 Nights
Pindari Glacier, a trekkers' paradise, is a world famous glacier and is easier to trek than most other glaciers. The Pindari Glacier has a beauty of its own, Pindari is a big and steep glacier measuring 3km in length and 0.25km in breadth. This glacier is situated between snow capped NANDA DEVI and NANDAKOT mountains. The glacier is at an altitude of 3353 mtrs. The entire trekking route is filled to the brim with natural beauty. A trek to the Pindari Glacier is a "soft adventurous" experience and well within the capacity of any trekker who is amply rewarded by the magnificence and grandeur of the towering Himalayas
Day 01: Arrive Delhi
Takeover from airport and shift to hotel. Have rest and if you are reaching in day-you can use evening for visiting central Delhi.
Day 02-03: Delhi to Kathgodam - travel to SONG.
We depart by air conditioned coach of RANIKHET EXPRESS which reaches early morning at KATHGODAM. Our jeep is ready to take us further deep into mountains. We reach LOHARKHET (1750 m/5775 ft)
Day 04: Loharkhet - Dhakuri (2680 m/8844 ft)
It is an 11 km trek today that takes you down into the depths of the valley and then a fair climb to Dhakuri. Overnight is tents / resthouse.
Day 05: Dhaukuri - Khati (2210 m/7293 ft)
This is an 8 km trek; Khati is the largest village on this route and is on the banks of the Pinder Ganga. The people here are extremely hospitable and legend has it that they are the descendents of the race who provided shelter to the Pandavas during their exile. Overnight in Tents / Village huts.
Day 06: Khati - Dwalt (2575 m/8498 ft)
The trekking distance today is 11 km (5-6 hrs) with the roar of the Pinder Ganga not too far off. Along the way there are many a waterfalls and log bridges to be crossed. Overnight in tents / resthouse.
Day 07: Dwalt - Phurkia(3206 m/14300 ft)
A short 5 km trek takes you to Phurkia. The barren icy peaks seem to be your only companions for the day. Overnight in tent / resthouse.
Day 08: Phurkia - Pindari Glacier (3900 m/12870 ft)
Today is an early start as it is a 7 km trek each way. Touch zero point from where the Pindari glacier can be viewed in all its magnificence. The pinder valley is also prominent with its patches of lush greenery over the stark white landscape. Return to Phurkia.
Day 09: Phurkia - Dwali
Its time to go back and the 5 km trek will take about 3 hrs. Overnight in tents / resthouse.
Day 10: Dwali Khati
Today's 11 km trek will take 4-5 hrs. Exploring Khati is a good idea as it has some beautiful sights to offer. Overnight in tents / resthouse.
Day 11: Khati - Dhakuri
The trips coming to an end. 8 km of trek (3-4 hrs).
Day 12: Dhakuri - Loharkhet - Song
Trek all the way to song today 13 km, The trek has come to an end.
Day 13: Song to Kathgodam - Delhi
We reach early morning at DELHI.