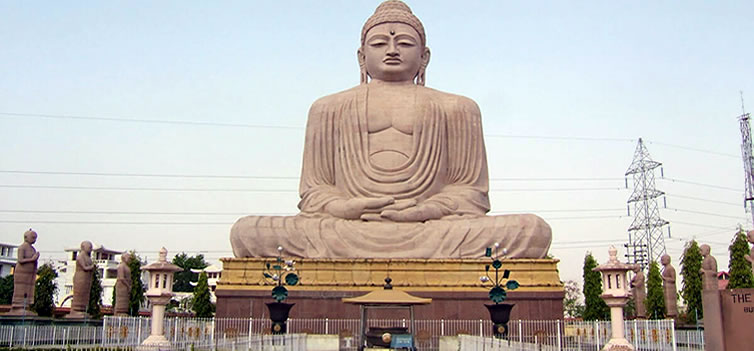 In the Steps of Lord Buddha
Duration : 12 Days\11 Nights
India, a country thousands of years old hold within an everlasting treasure of its culture and wisdom. Centuries ago, Lord Buddha was born here and walked on its soil spreading the message of Universal Brotherhood and Peace. Perhaps, the every day life of violence and tension reminds us of the alternative that was always available to us, the buddha's way of life - gentle and simple.
Day 01: Arrive Delhi
Arrive Delhi. Welcome and assistance upon arrival at the airport. Later transfer to hotel.
Day 02: Delhi
Morning free to relax and adjust to the time zone. Afternoon visit one of the Buddhist Culture center.
Day 03: Delhi - Varanasi
Morning transfer to airport for flight to Varanasi. Arrive Varanasi and transfer to hotel. Afternoon visit Sarnath - a place where Buddha first preached his sermon.
Day 04: Varanasi
Early morning sunrise boat cruise over river Ganges. Later depart by private car to Bodhgaya. Arrive and check in at hotel.
Day 05: Bodhgaya
Full day visit to Bodhgaya a place where Lord Buddha entered a state of mediation under the 'Bodhi' tree (banyan tree) and attained Nirvana (the enlightenment). On the walls of Mahabodhi temple, one can see images of Lord Buddha in different aspects.
Day 06: Bodhgaya - Rajgir
Morning depart by motorcocach /car to Rajgir. Arrive and check in at hotel. Visit Rajgir - a sacred town to all Buddhist where Lord Buddha meditated and preached on the Hill, Karanda Tank where Lord Buddha would bathe, seven hot springs where Lord Buddha for its healing powers. Also visit the ancient Nalanda University founded in the fifth century B.C. Ancient Buddhist texts revelas that Lord Buddha studied here.
Day 07: Rajgir - Vaishali - Patna
Morning depart by private motorcoach/car to Patna visiting enroute Vaishali - a place where Lord Buddha visited frequently and during the last visit here told his disciplines that they would see him no more as he was to attain the Mahaparinirvana (the ultimate bliss). Visit the Buddhist stupas. Arrive Patna and check in at hotel.
Day 08: Patna - Kushinagar
Morning depart ofr Kushinagar by motorcoach/car. Arrive and check in at hotel. Afternoon city tour of Kushinagar where Lord Buddha breathed his last and attained Mahaparinirvana saying decay is inherent in all component things. Visit the Nirvana temple which enshrines a colossal statue of Lord Buddha in a reclining position.
Day 09: Kushinagar - Lumbini - Balrampur
Morning depart for Lumbini by car on Indo-Nepal border. Lumbini, a tiny village situated on the fotthills of Himalayas witnessed the birth of a Prince called Shakyamuni Gautam Siddhartha who later became Lord Buddha the awakened one. Visit the sacred pond, Ashoka Pillar, Mahadevi temple. Later drive to Balrampur. Arrive and check in at hotel.
Day 10: Balrampur - Sahetath - Lucknow
Leave for Lucknow by motorcoach/car via Satehmath famous for Buddhist Stupas. Arrive Lucknow and check in at hotel.
Day 11: Lucknow - Delhi
Transfer to airport for flight to Delhi. Arrive and check in at hotel.
Day 12: Delhi - Onward Journey
Transfer to airport flight to your onward destination.