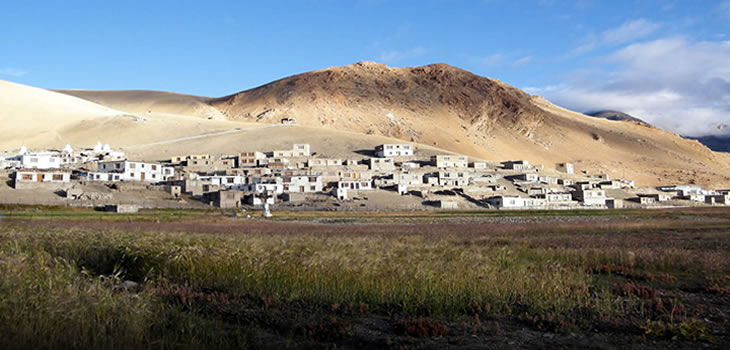 Hemis Rupshu Darcha Trek
Duration : 18 Days\17 Nights
This is a wonderful trek which has been opened to tourist year back. It has very different landscape. From that one approaches the highTibetan Plateaus inhabited by the nomadic chang Pass.The best period is Chang pass is July to September.
Day 01: Delhi
Arrive Delhi. Meet on arrival and transfer to hotel. Afternoon visit old city of Delhi. Overnight at Delhi.
Day 02: Delhi - Leh
Morning transfer to the domestic airport to board flight for Leh. On arrival transfer to hotel at Leh. Free day to acclimatized. Overnight at hotel.
Day 03: Leh - Hemis - Shang
First day of trek starts from Hemis to Shang for about 3 hours easy walk. Few river crossings. Shang has as beautiful monastery. The camping site is ideal.
Day 04: Shang - Ltaza Kongamaru
About 7 hours. The first 2 hours are easy. At Chukirmo the trek leads into a gorge. Few river crossings.
Day 05: Ltaza Kongamaru - Nimaling
The ascent to the top of the Kongmarla pass(5150 mtr) is steep. Nimaling is one of the most beautiful high valleys in Ladakh. It is the summer camp of the shepherds of Markha Valley. One can find plenty of yaks grazing around.
Day 06: Nimaling - Langtangchu
About 5 hours easy trek. Ideal camping site.
Day 07: Langtangchu - Khar
About 7 hours. The ascent to the top of the Zalung Karpola pass ( 5100 meter) takes about 5 hours. From there, following the western ridge there is another
Day 08: Khar - Dat
About 6 hours easy trek through a gorge which widens up to lead us into Dat. Dat is a small with a monastery.
Day 09: Dat - Lunngmoche
About 7 hours. The climb to the Yarla pass (4950 mt) is short and easy. From the top of the pass one gets fantastic view of the Rupshu Valley. Easy descent of about two hours to the summer camp at Lungmoche.
Day 10: Lunngmoche - Jabuk
About 6 hours easy walk. Good morning site. Overnight in camp.
Day 11: Jabuk - Base of Marangla
From Jabuk we get to Lun in a short while. From Lun the trek leads to a beautiful plateau. The ascend to the Marangla from the Plateau is steep at first, which becomes gentler as we approach the Marangla Pass (5200 meters). Camp at the base of Marangla.
Day 12: Base of Marangla - Tsogmirtsig
It is a 6 hours trek. Cross pass of Marangla. Camping at Tsogmirtsig.
Day 13: Tsogmirtsig - Jukthak
About 5 hours easy trek Overnight at Jukthak. Very good camping site.
Day 14: Jukthak - Sarchu
About six hour's easy trek to reach Sarchu just sandwich between Leh ? Manali road.
Day 15: Sarchu - Camp
About 7 hours trek. Long ascent up a broad alluvial plane closed in by moraine, which one keeps on the left hand side, leads to Baralacha La pass (5300 meters). Descending from the top we go across large pastureland. Steep descent to the camp side by the river.
Day 16: Camp - Patseo
About 6 hours. We go through Zingsingbar ruins. Camp at Patseo.
Day 17: Patseo - Darcha
About 3 hours. Following the Leh Manali highway, we get to Darcha. Camp at Darcha. From where you will be picked up by bus next day to got to Manali.
Day 18: Darcha - Manali
Morning drive from Darcha to Manali. Evening drive to Delhi by AC directly from Manali to Delhi. Late evening you will be in Delhi.