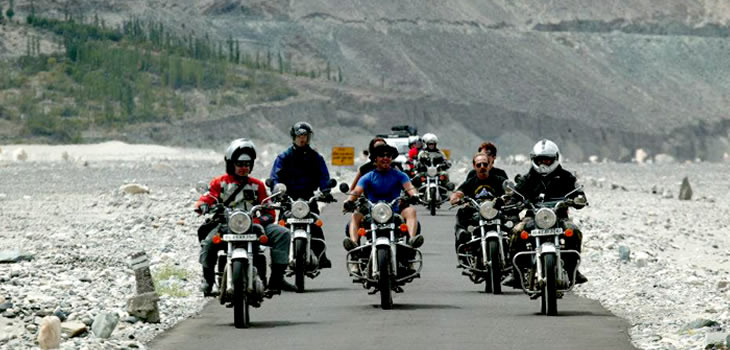 Motorcycle Tour in Kumaon, Garhwal and Himachal
Best Season: March - April/Sep - Oct
Looking for a Motorbike Tour that puts you at ease with not much taxation to challenge yourself - here is an experience - the serpentine roads keep you wondering as to what is next road bend like, but at the same time metalled road condition keep the bike moving at a regular pace with the cold breeze of the spring & autumn season relaxing us. No harsh climates - no acclimatisation to high altitudes - a slow pace of life on the lower Himalayas on
the Motorcycle Tours India tour. Easy going days with pleasant evenings at campsites, a bottle of beer by the bonfire, makes this a easygoing and relaxed motorbike holiday.
Kumaon, Garhwal and Lower Himachal are famous for panoramic views of the thick vegetation, with maximum travel in remote areas going up to an altitude of almost 9000 Ft. There is ample opportunity to interact directly with the locals, who are not at all influenced by the urban life. Truly this motorbike tour is for people looking for an insight into the rural life of India with a great view of the evergreen forests of the Lower Himalayas and beautiful temples and monasteries.
Day 01: Delhi - Mukteshwar
Mukteshwar wild life sanctuary is an extension of the Corbett wild life Sanctuary. There are magnificent views of the Api - Nampa peaks of Nepal to the Chaukhamba peaks in Garhwal. Over night Luxury Camp.
Day 02: Around Mukteshwar - 150 Kms
Day for seasoning & getting used to driving in a new country on the serpentine roads. Visit Ranikhet and Nainital.
Day 03: Mukteshwar - Kausani - Appx 262 Kms - 1890 m
Down hill on the serpentine road through pine & silver fir forests to Jageshwar -There are 124 temples in the complex. Visit the Underground Cave Temples of Patal Bhuvaneshwar and Kausani which offers magnificent views of 350 Kms long stretch of majestic peaks like Panchachuli, Nanda Devi, Trishul, Nanda Ghunti, Chaukhamba & Kedarnath.
Day 04: Kausani - Rudraprayag. (Appx - 170 Kms)
Ride along the banks of mountain rivers through delightful alpine pastures & snowfields - Truly an abode of the Gods.
Day 05: Rudraprayag - Dhanolti - Appx 180 Kms.
The drive today gives us to the feel of higher range as we start riding uphill. We will get an extensive view of the northern ranges.
Day 06: Dhanolti - Nahan - Appx -252 Kms
Descend down from Dhanaulti into the plains of Yamuna through Saal forests of the Terrai region of Lower Himalayas. The roads are quite isolated and road condition is fairly good, but do keep a watch for stray animals.
Day 07: Nahan - Hathkoti - Appx 212 Kms
Now we are in Himachal Pradesh. Its again an easy riding day ahead through some thick wooded forests of Deodar as we follow the Tons River. O/Nt Camp at Hathkoti.
Day 08: Hathkoti - Narkanda
We will continue our ride through the lush green forests on reasonably well maintained road to reach Narkanda. Narkanda offers awesome views of the snow-capped peaks of the higher Himalayan ranges.
Day 09: Narkanda - Shoja via Jalori Pass - Appx - 180 Kms
It is time to ascend the hairpin bends of the serpentine road that will lead us to Jalori Pass (3223 M). The area retains a surreal charm as it remains off the beaten tracks followed by hoards of tourists - you will be compelled to capture this area on camera!.
Day 10: Shoja - Dharamshala - Appx 195 Kms
Till Mandi it will be a good riding speed on the flat, well maintained roads along the river bed, & then uphill to Dharamshala. We are now in an area influenced by Tibetan Buddhism. The seat of his Holiness the Dalai Lama is at Mcleodganj, appx 100 Kms from Dharamsala.
Day 11: At Leisure in the area
Visit the seat of his holiness The Dalai Lama, Tapovan and Norbulingka institute, set amidst beautiful gardens - designed & built according to traditional Tibetan style and a spiritual centre for Tibetan Buddhists.
Day 12: Dharamsala - Manali - Appx 235 Kms
We ride back till Mandi on the same way we ascended & then it is a smooth ride along the Beas River till Manali Resorts. The ride is mainly through the Orchards, initially in the flat river bed.
Day 13 - In & Around Manali
Wake up relaxed in your comfortable hotel room overlooking the Beas River. Today is the last day of the Motorcycle Tours India Tour. Proceed for sight seeing of Manali town with a picnic lunch following in the Back up vehicle.
Day 14: Drive to Kullu and fly to Delhi & connecting flight home.