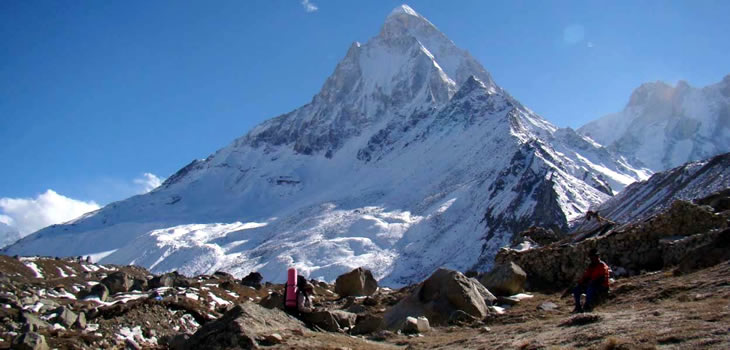 Gaumukh Tapovan Trek
Duration: 13 Days\12 Nights
Shivling Trek in Garhwal Himalaya. Submerged in the river there is a natural Shivling where, according to mythology, Lord Shiva sat when he received the Goddess Ganga in his matted locks.
Day 01: Delhi - Mussoorie (1921 mts/6300 ft)
Arrival at Delhi, then drive to Mussoorie via Dehradun. Mussoorie is 295 kms from Delhi and it will take 6-7 hrs. Upon arrival at Mussoorie transfer to hotel for dinner and overnight stay.
Day 02: Mussoorie - Uttarkashi (1150 mts/3772 ft)
In the morning after breakfast drive to Uttarkashi via Chamba. One can see a panoramic view of the high mountain peaks of Garhwal. Upon arrival at Uttarkashi check in to hotel. Dinner and overnight stay at the hotel.
Day 03: Uttarkashi - Gangotri (3048 mts/9998 ft)
In the morning drive to Gangotri via a beautiful Harsil valley. Enroute take a holy dip in hot sulphur springs at Gangnani. Upon arrival at Gangotri check in to hotel. Evening free to explore the beautiful surroundings.
Day 04: Gangotri - Bhojbasa (3350 mts/10988 ft)
The walk begins with gradual ascent through pine trees, alongside the roaring Bhagirathi River with towering cliffs on your left hand side. Soon after you leave Gangotri, you pass a check post for the Gangotri Conservation Project. Here you have superb views of Hanuman Tibba (17,186 ft/5366m), Bhrigu Parbat (19,217 ft/6000m), Bhagirathi I, II and III. Dinner and overnight stay in tents at Bhojbasa.
Day 05: Bhojbasa - Goumukh (3890 m/12760 ft)- Tapovan (4463 m/14640 ft)
After breakfast trek to Goumukh (3890mt), the source of the Ganges.u The sages called it 'Goumukh', because in the distant past, it probably appeared like a cow's mouth. Explore the area and trek to Tapovan, one of the finest high altitude alpine meadows in the area. Tapovan known for its beautiful meadows that encircle the base camp of the Shivling peak. Arrive Tapovan and camp. Dinner and overnight stay in camp.
Day 06: Tapovan - Kirti Bamak - Tapovan (7 kms/6 hrs)
Early in the morning a full day trek to Kirti Bamak glacier. From here you can see the Kedardome peak (6850 mts/22468 ft), Kirti Bamak (6500 mts/21320 ft) and a magnificent view of Shivling. After exploring the area return to Tapovan for dinner and overnight stay.
Day 07: Tapovan - Meru Glacier - Tapovan (5 hrs/6 kms)
The day is also thrilling to see the Mt. Meru peak (6400 m). In the morning trek to the base of Mt. Meru crossing the meadows of Tapovan the trail climbs into another ablation valley. It's mythical name is "The mountain of Gold".
Day 08: Tapovan - Nandanvan (4570 mts/14990 ft/ Trek 4-5 hrs)
We trace back to Nandanvan via Goumukh glacier. From Goumukh turn towards Nandanvan (4340m) and steering on right one will be on top of the Gangotri glacier. The glacier walk is very slippery and a slight lack of concentration would be dangerous. Huge crevasses gaped here and there. Overnight stay in tents
Day 09: Nandanvan - Vasuki Tal (4800 mts/15744 ft) - Nandanvan (7 kms/6 hrs)
Morning trek along with Chaturangi Glacier to reach Vasukital, a beautiful base for Mt Satopanth and Mt Vasuki Parbat. After exploring the area trek back to Nandanvan.
Day 10: Nandan Van - Bhojbasa (Trek 4-5 hrs)
Early morning enjoy the sunrise on high peaks. After breakfast trek down to Bhojbasa. Dinner and overnight stay at the camp.
Day 11: Bhojbasa - Gangotri (Trek 4-5 hrs) - Uttarkashi
Morning after breakfast trek down to Gangotri, where our car will be waiting for us. Then drive to Uttarkashi. Dinner and overnight stay at Hotel.
Day 12: Uttarkashi - Rishikesh
Morning after breakfast drive 170 kms to reach Rishikesh. Check in hotel an dinner & Overnight stay hotel.
Day 13: Rishikesh - Delhi
Morning after breakfast drive to Delhi. Enroute stop at Hardwar, visit Har Ki Pauri ghat. Continue drive to Delhi and on arrive check into hotel. Overnight stay at Delhi.