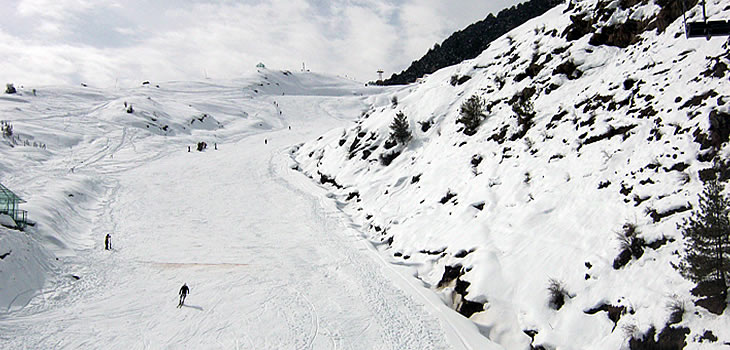 The hills and slopes of Uttaranchal provide a fascinating trail for adventure sports or more specifically skiing. A splendid track of flora and fauna with fresh snowfall all throughout the winter season makes Uttaranchal a haven for skiing. The undulating land, the dangerous glaciers, and the shimmering snow make skiing in Uttaranchal a lifetime experience.
Auli is an important skiing base in Uttaranchal. Situated 2519 meters above sea level, one can often see the line of people criss- crossing through the cross country tracks. Nanda Devi standing tall in the back ground provides the balm to the sore eyes and mind. In Auli machines like snow beater provides a smooth track which is ideal for skiing.
The Ski training institute in Auli is a good place for you to learn how to sharpen your edges and handle the ski equipments deftly. An amateur gets to understand the many details of the sports.
Despite the modern techniques of skiing and the many hi tech equipments, the skiing institute can't be held responsible if any unforeseen mishap occurs. Minor should bring along a certificate stating the willingness of their guardian to let them ski. Mundali is another important ski resort comprising of vast stretch of open land covered in dense snow.
Skiing-Site:
Auli : Auli is the most favored skiing resort of India. GMVN, has tried its level best to make it a world class Skiing Resort. Auli lies 16 Km from Joshimath and is one of the prime tourist destinations in Uttaranchal. The natural advantages of Auli?s slopes, coupled with state-of-the-art facilities provided by GMVN have made it comparable to the best in the world. The snow capped slopes of Auli are flanked by stately coniferous and oak forests which cut wind velocity to the minimum. Auli offers a panoramic view of Himalayan peaks like the Nanda Devi (7817 M), Kamet (7756 M) and Dunagiri (7066 M).

Dayara Bugyal : Dayara Bugyal in Uttarkashi is another beautiful skiing resort. The place is accessible by trekking 8 Km, so be prepared for a long trek before taking up the Skiing course. Skiing at dayara Bugyal can be a lifetime experience for those who want a break from the crowd at other hillstations.