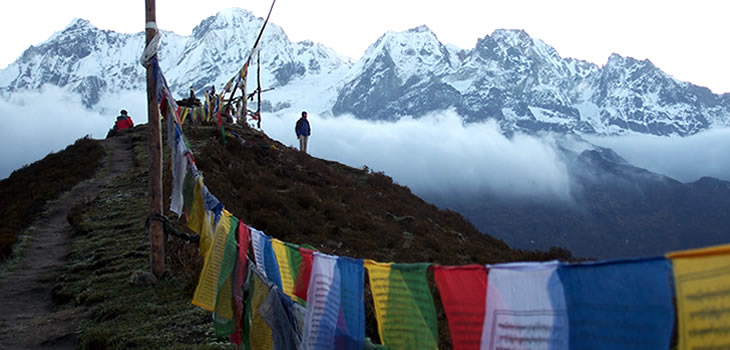 Sikkim Kanchenjunga Trek
Duration:18 Days\17 Nights
Kanchenjunga Trekking Tour will take you through some of the most beautiful forests of Sikkim. In spring this trail is especially beautiful with Rhododendrons, Magnolias and other flowers in full bloom - truly a naturalist paradise. You will come close to Mount Kanchenjunga.
Day 01: Arrive Delhi
Where you will be met and transfered to your hotel.
Day 02: Delhi - Bagdogra - Darjeeling
A charming journey, through Assam tea plantations and tiny villages takes us to Darjeeling.
Day 03: Darjeeling - Manay Bhanjang (2134 m) - Tonglu (3070 m)
The trail overlooks the Bengali plain south, and we have tantalising glimpses of Kanchenjunga ahead, as we zigzag through rhododendrons.
Day 04: Tonglu - Garibas (2620 m)
We take a mossy paved path, that snakes through a succession of forests and hamlets, giving way, from time to time, to spectacular mountain sceneries.
Day 05: Garibas - Sandakphu (3640 m)
We steadily climb to join the ridge trail towards Kalpokhari. Afterwards we start a long and steep climb onto the Singalila ridge that leads us to Sandakphu.
Day 06: Sandakphu - Phalut (3600 m)
We walk to a prominent viewpoint for the magnificent sunrise over the Kanchenjunga, Jannu, Everest, Lhotse, and Makalu.
Day 07: Phalut - Raman (2560 m)
A pleasant descent through the woods takes us to Gorkhey (2500m), then we climb up towards Raman.
Day 08: Raman - Rimbik (2280 m) - Pelling
We pass through numerous villages and cross the Sri Khola over a remarkable suspension bridge.
Day 09: Pelling - Pemayangtse - Yuksam
2.5 km from Pelling, we will visit the Pemayangtse monastery. It is one of the oldest and most impressive gompas in Sikkim.
Day 10: Yuksam - Tsoska (3030 m)
The trail leads up the Rathong valley, through thick, semi-tropical forests. Afterwards a steep climb takes us to the tiny Tibetan village of Tsoska. We get excellent views of the entire Himalayan range and Kanchenjunga.
Day 11: Tsoska - Dzongri (4020 m)
A steep trail zigzags up through temperate forest and large clusters of rhododendrons, to the vast clearing of Phedang. After 300 m, we follow the ridge to Dzongri, a pasture area for Yuksam yaks from April to October.
Day 12: Dzongri - Thangshing (3930 m)
We descend through rhododendron forest towards the the glacial Prek river. We establish our campsite on the grassy pastures of Thangshing. The southern ridge of Kanchenjunga are visible directly ahead and there are close-up views of Pandim.
Day 13: Thangshing - Samity Lake (4200 m)
A pleasant walk below the west side of Pandim, through dwarf azaleas and rhododendrons to Zemathang. We take our first footsteps on the Onglakhing glacier, and climb up to the shores of the Samity lake, reputed to be the sacred source of the Prek river.
Day 14: Samity Lake - Gocha La (4940 m) - Thanshing
We have to leave quite early this morning, as fog and clouds descend on the pass shortly after sunrise. The track to Gocha La climbs steeply through moraines.
Day 15: Thangshing - Lam Pokhari (4230 m)
After a steep descent, we climb through alpine areas and pass by tiny lakes.
Day 16: Labdang - Tashiding (1740 m)
An easy walk, in an atmosphere becoming more humid and heavier as we descend.
Day 17: Tashiding - Martam
We visit the Tashiding monastery, one of the most isolated in Sikkim, perched on the top of a hill set between two rivers.
Day 18: Martam - Gangtok - Bagdogra - Delhi
En route we visit Rumtek monastery, reputed for its religious Tibetan art. Visitors are welcome to attend prayers. Afternoon at leisure in Gangtok. After that trek to Bagdogra. Then drive back to Delhi.